Sports and societies are a huge part of our lives here at John's; we're passionate about doing what we love and they create great opportunities to bring us together, meet new people and have some fun! Every single member of the Common Room is encouraged to get involved and participate, no matter what prior experience you have.

We may be the second smallest college, but we have a great sporting reputation and consistently punch well above our weight. We are arguably the second best college for sport in Durham when points per individual student are taken into account (credit to Adrian for working this one out!). The pinnacle of John's sport arises each summer, post-exams, in the annual competition against our arch rivals Chad's, John's Chad's Day. In 2019, John's made it a hat-trick of wins, after romping to victory by 22 points to 9. On current form, we hope to continue this winning streak for years to come!

Along with the many sports clubs that you can join, there are also numerous societies which are equally as exciting to join and allow you to make new friends every evening of the week! We have a huge range of music groups to get involved in, overseen by the John's Music Society (JMS), famous for its relaxed open mic nights, and The Bailey Theatre Company (BTC) puts on a series of shows throughout the year, including the hugely popular Summer Shakespeare festival. Other favourites in John's are the Whiskey Society and the Cheese Society, alongside the Art Soc and Eco Soc.
College sports and societies are all about participation, so you can get involved whatever your standard or experience. During your time at John's, you are almost certain to find yourself in a position of leadership, which will also enhance your CV and future career prospects, providing you with concrete examples of management and organisation. So even if you've never picked up a lacrosse stick, or fancy trying rugby, don't know what whisky tastes like or dream of being on the stage, this is your opportunity!
St John's students are recognised for their commitment to sports and societies every year at an awards night, and from this year onwards, regular shout-outs will be given in This Week to those who have stood out in their club or society during that week.

Sports and Societies are always evolving at John's – we hope there's something for everyone but if not then you can make it happen and start something of your own. See the guides and handbooks section of the website for advice on how to go about creating a society. We're really excited about another great year, and can't wait for you to join us in our future successes.
The College Freshers' fair is the best place to sign up for sports and societies at the beginning of each year. You can sign up for as many sports and societies as you would like, without any obligation! But, if you would like to know more about a specific sport or society, or don't know who to get in contact with about joining a sports team or society, click on the links below to access the sports and societies' Facebook pages. You can also email johns.sportsoc@durham.ac.uk for information about any sports or societies.
Sports
Athletics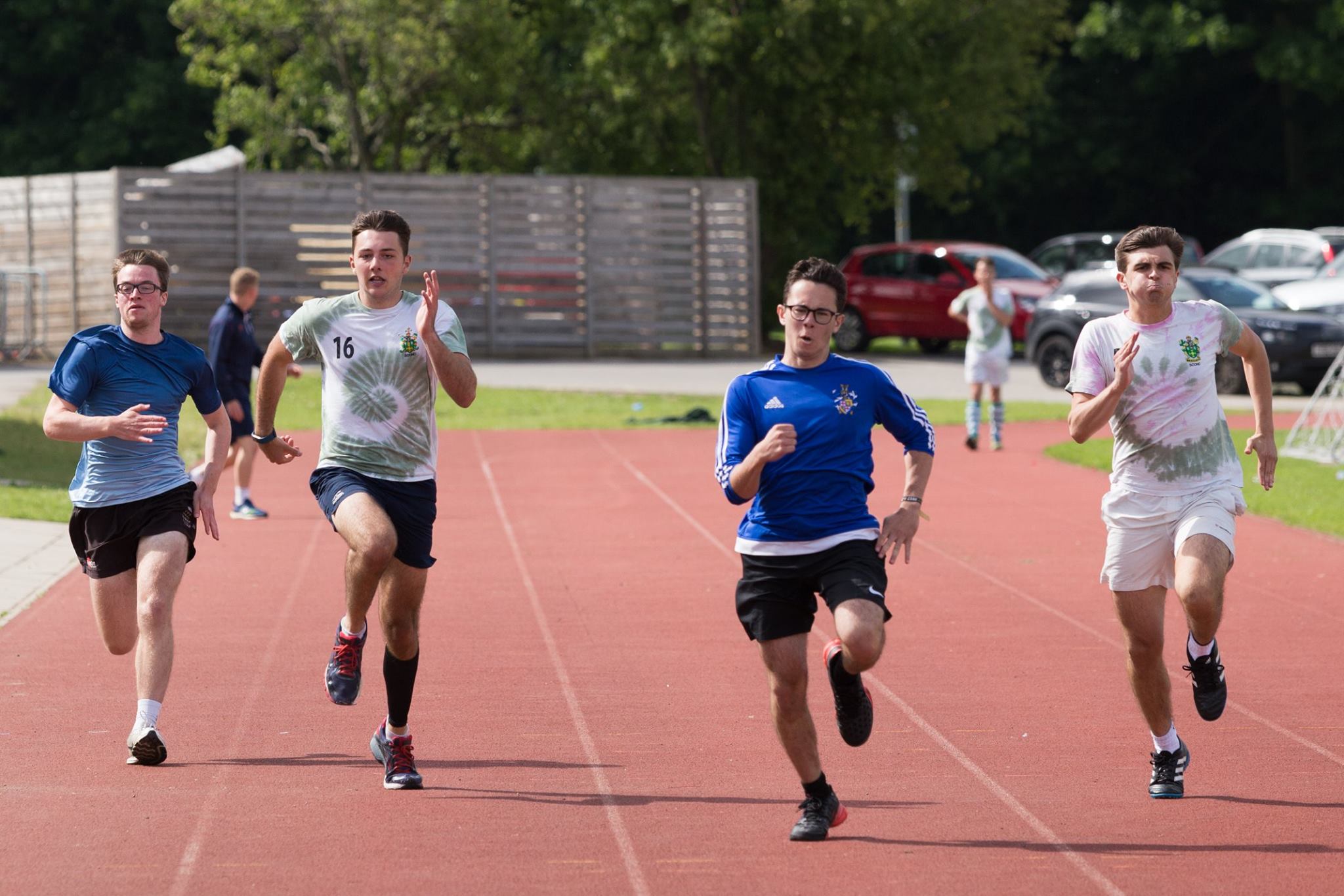 Contact johns.sportsoc@durham.ac.uk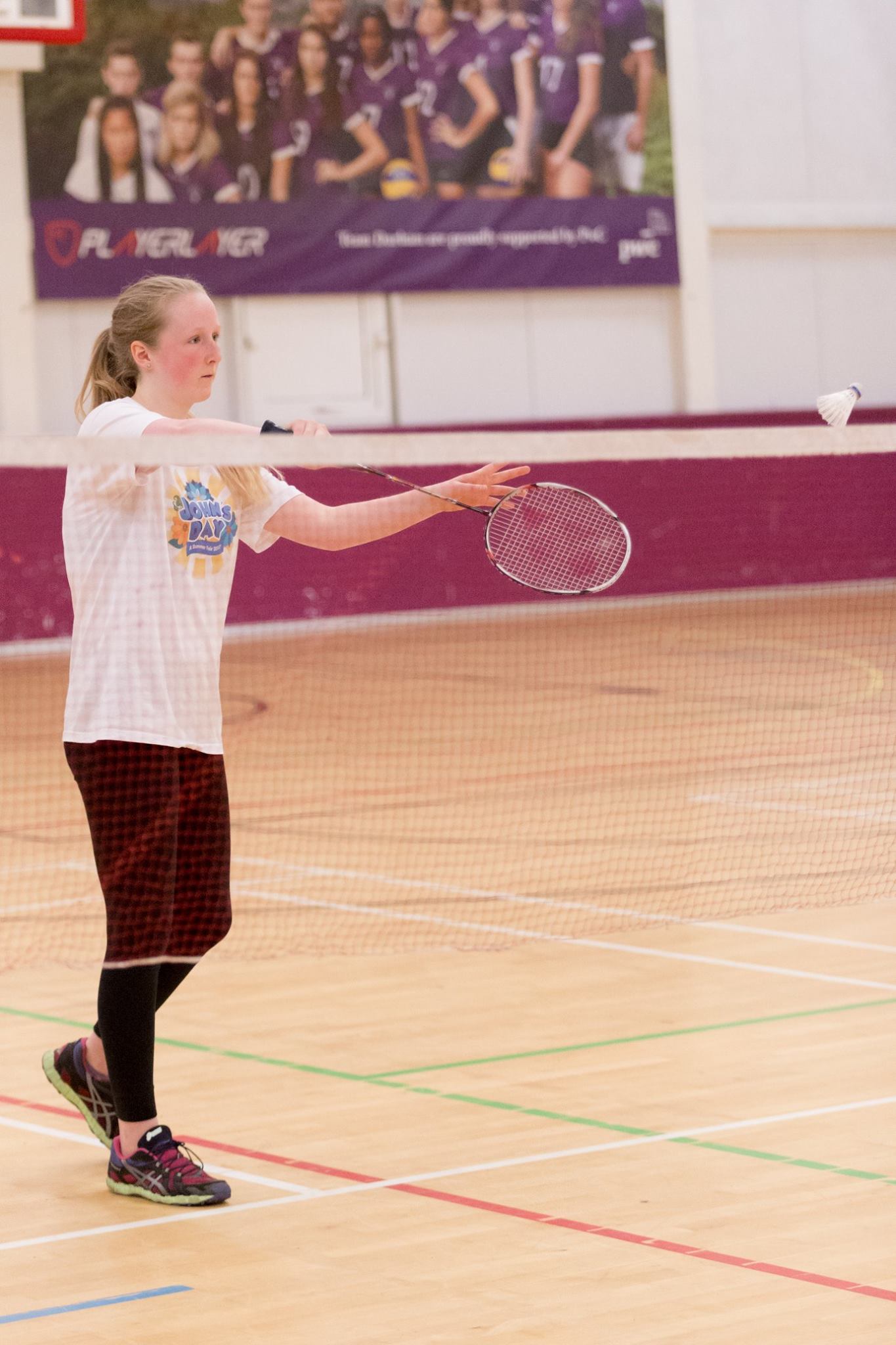 After a very successful year for both Men's and Women's Badminton, we hope we will be able to build upon a great foundation. With promotion for the men's team, and only narrowly missing out with the women's, we'll be looking to strengthen our teams and go even further this year. However, it's not all about the competition! We have weekly practice sessions where everyone is welcome – from team members to novices – so do come along and give it a go!
Contact: Fred at – alexander.f.goodyer@durham.ac.uk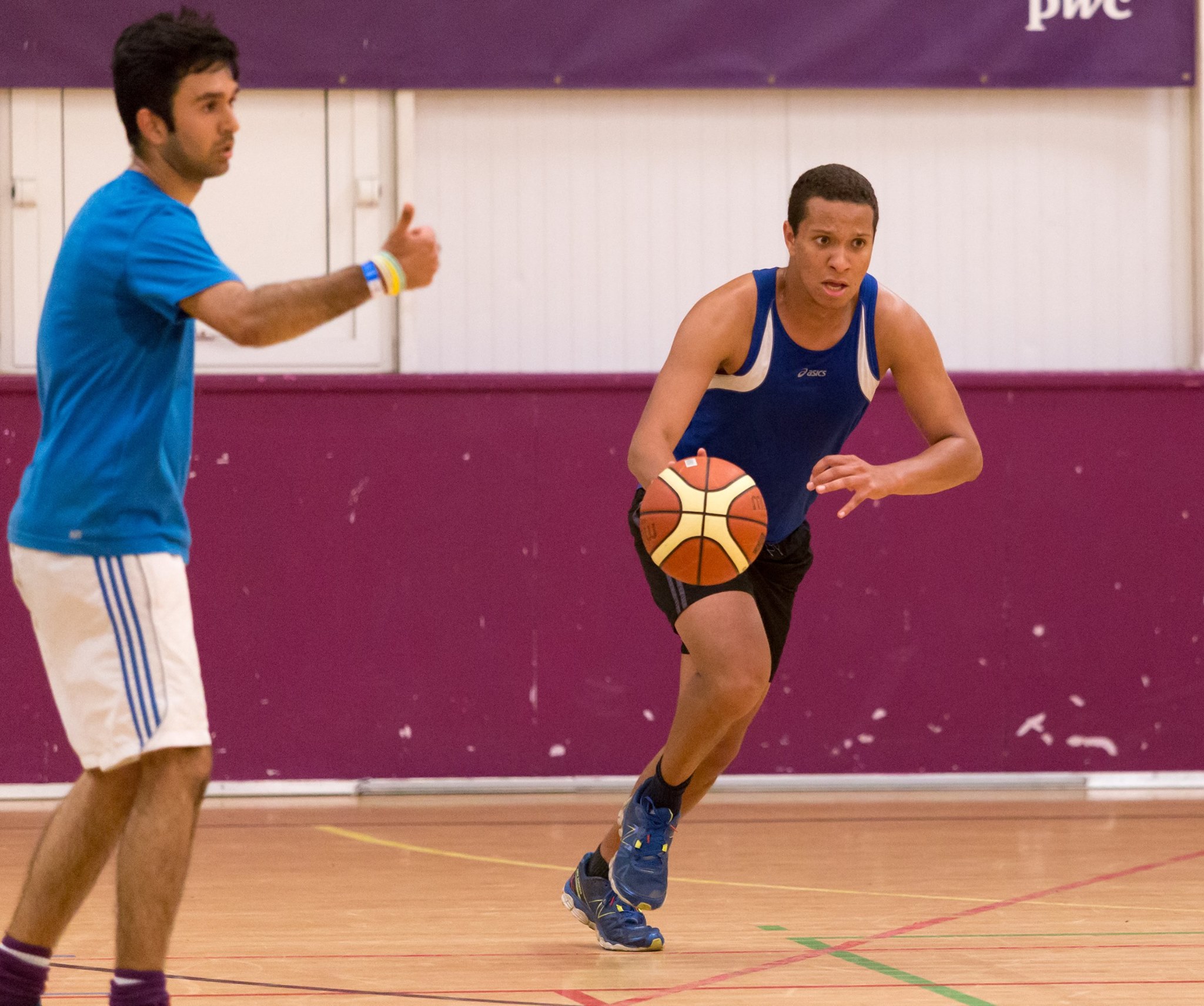 The men's basketball team were unfortunately relegated from the premiership a few seasons ago. However, the resolve of the team has never been stronger as we seek to bounce straight back into the premiership. Women's basketball is one of the newer teams at John's and is looking for some new recruits. Both teams have weekly training and games every other week. You don't have to be tall, just willing to get involved and get to training! All levels are welcome.
Contact: George at george.s.acquaah@durham.ac.uk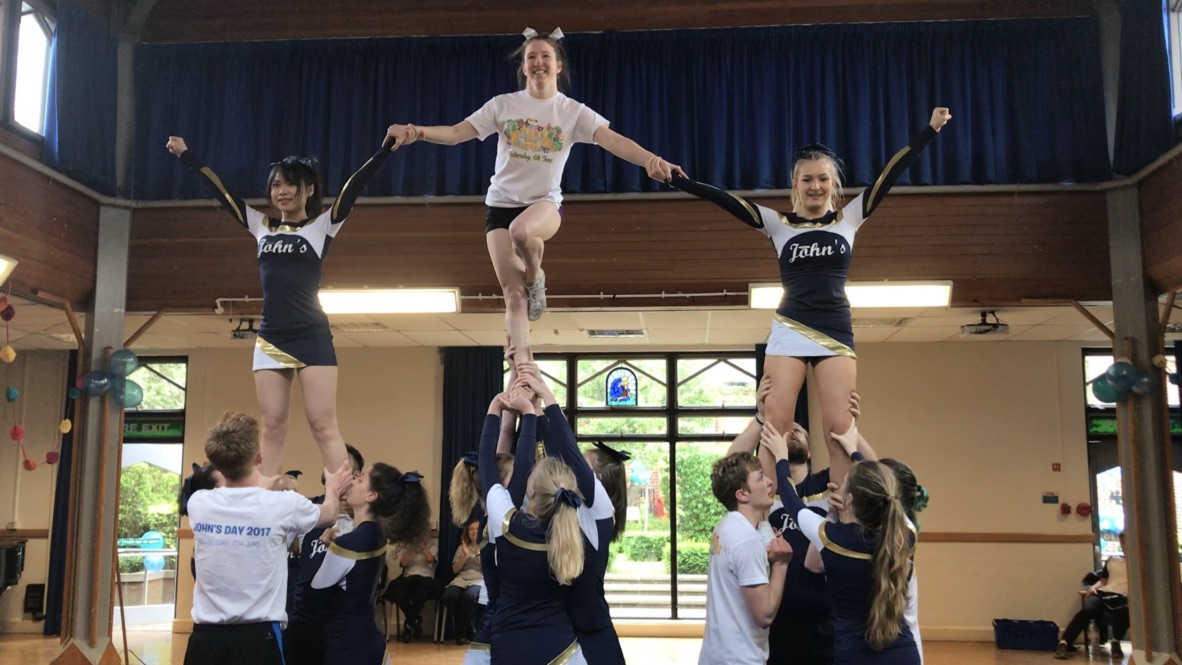 Cheerleading is a great way to learn new skills as it incorporates elements of dance, gymnastics and stunting to create fun, exciting routines for people to enjoy! For those who have seen 'Bring it On,' don't worry, you won't be asked to do a cheesy chant or participate in a dance off! St. John's College Cheerleading was established four years ago and our team of Freshers, with no previous experience of cheer, did amazingly in the annual Durham college cheerleading competition. There is no need for you to have done cheerleading, dance or gymnastics before, as everyone is welcome to join! This year should be bigger and better with a larger team, so why not get involved?
Contact: Lauren at lauren.ward@durham.ac.uk
The St John's College Climbing Club offers discounted entry to the Durham climbing club, and aims to go climbing once per week. It's a great way to share your passion for climbing with others in college, and is new for John's this year!
Contact: Phoebe at phoebe.r.sleath@durham.ac.uk
John's Cricket welcomes anyone and everyone! Cricket at Johns is aimed at all levels: whether you really want to work on your game and win matches, or if you just want to come along for the banter, beer and Pimms. We're always looking for new players and hope that you'll join us.
Contact: Adrian at adrian.waddelove@durham.ac.uk
John's Cross Country has grown in number this year. We enjoy participating in the local ParkRun, and forming a social group that combines with physical challenge to make a fantastic society to join! Top tip: The Durham riverbanks are beautiful places for a run, but avoid running in the dark, late at night, or early in the morning.
Darts
St. John's Darts Club remains one of the most prestigious and decorated College Darts teams to this date, after a slumping few years since the epic dynasty that was capped with a trophy win at the end of the 2009/2010 series. The B team were crowned this season as league champions. We are looking for men and women, ANY skill level, to join our Club and help us to reinstate the standard that brought victory to the club. Games are played on Monday nights and provide a perfect break from the studying with a cheeky pint and a chance to throw some arrows. Depending on interest, there may the possibility of adding a fresher's team. Come on down to the Bar Overspill and give it a try.
Contact: Edward at edward.goodison@durham.ac.uk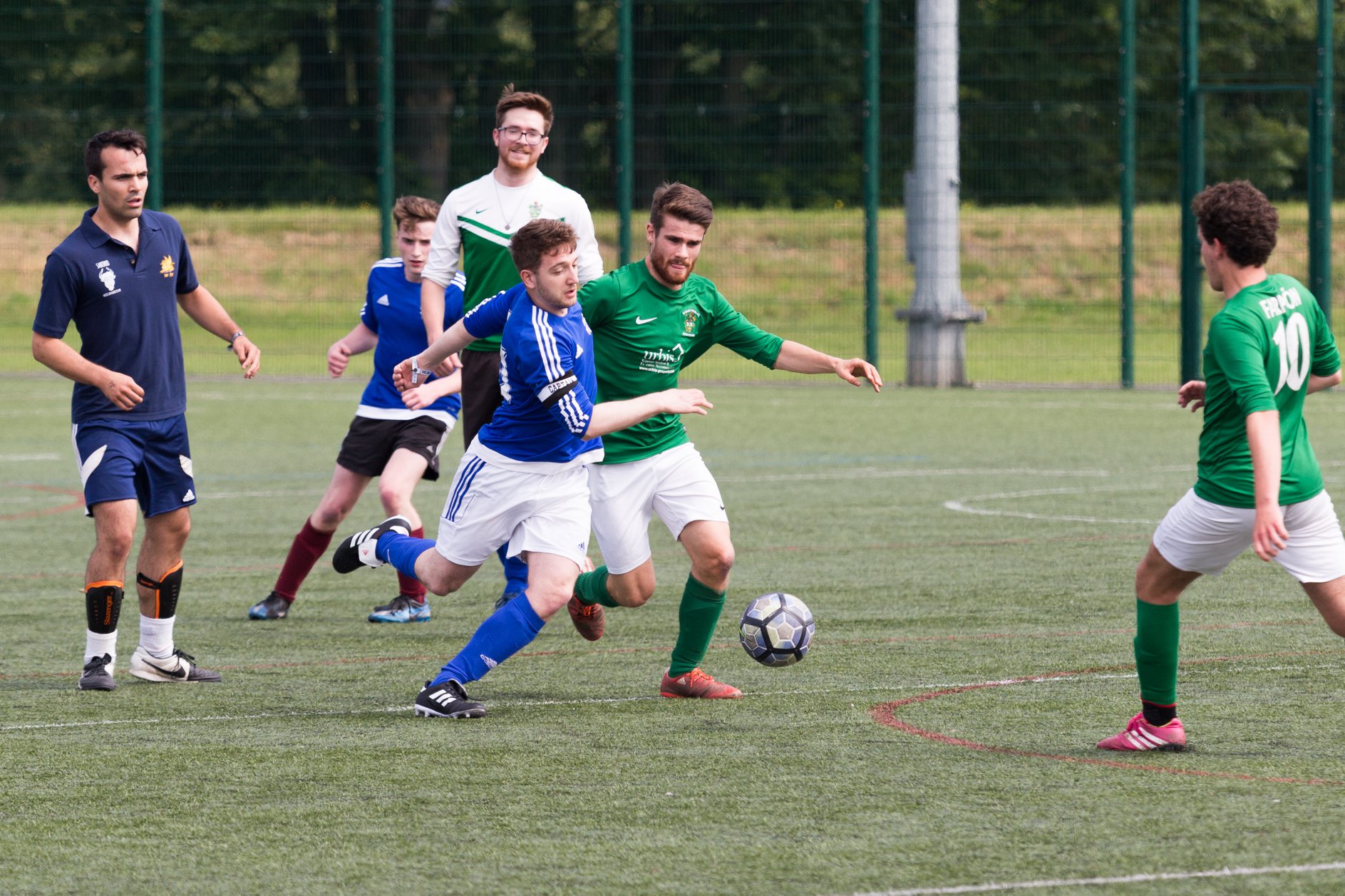 If you enjoy playing football, either at the highest level or just socially, then sign up for St. John's Football. We have 3 competitive teams and matches every week, so regardless of your ability there will be a game time for you! The Football Club is also an excellent way of socialising and brings together guys from every year and every course. We will be having a number of team socials throughout the year, so you can get to know each other both on and off the pitch. We are hoping for a big fresher turnout to enhance our squad at every level so sign up at the Freshers Fair. We're really looking forward to meeting you all this Autumn!
Contact: Rob at robert.errington@durham.ac.uk
Contact: Alice or Hannah at alice.sleightholme@durham.ac.uk/hannah.picton@durham.ac.uk
St. John's Women's Football is arguably the friendliest and most enjoyable team to belong to in college. We welcome complete beginners just as we do more experienced players. Everyone's skills and fitness develop through the year while having a great time playing. Obviously winning matches is brilliant, but we don't take it too seriously; we honestly aim just to have as much fun in training (once a week) and 43 games (usually every weekend) as we possibly can. Because of this everyone has a great time no matter the score. Club socials will be put on throughout the year and we draw many purely social members as well as those who come to train and play. If you want to make friends from across year groups and become awesome at footie while having a laugh, then don't hesitate to sign up at the Sports and Societies Fair.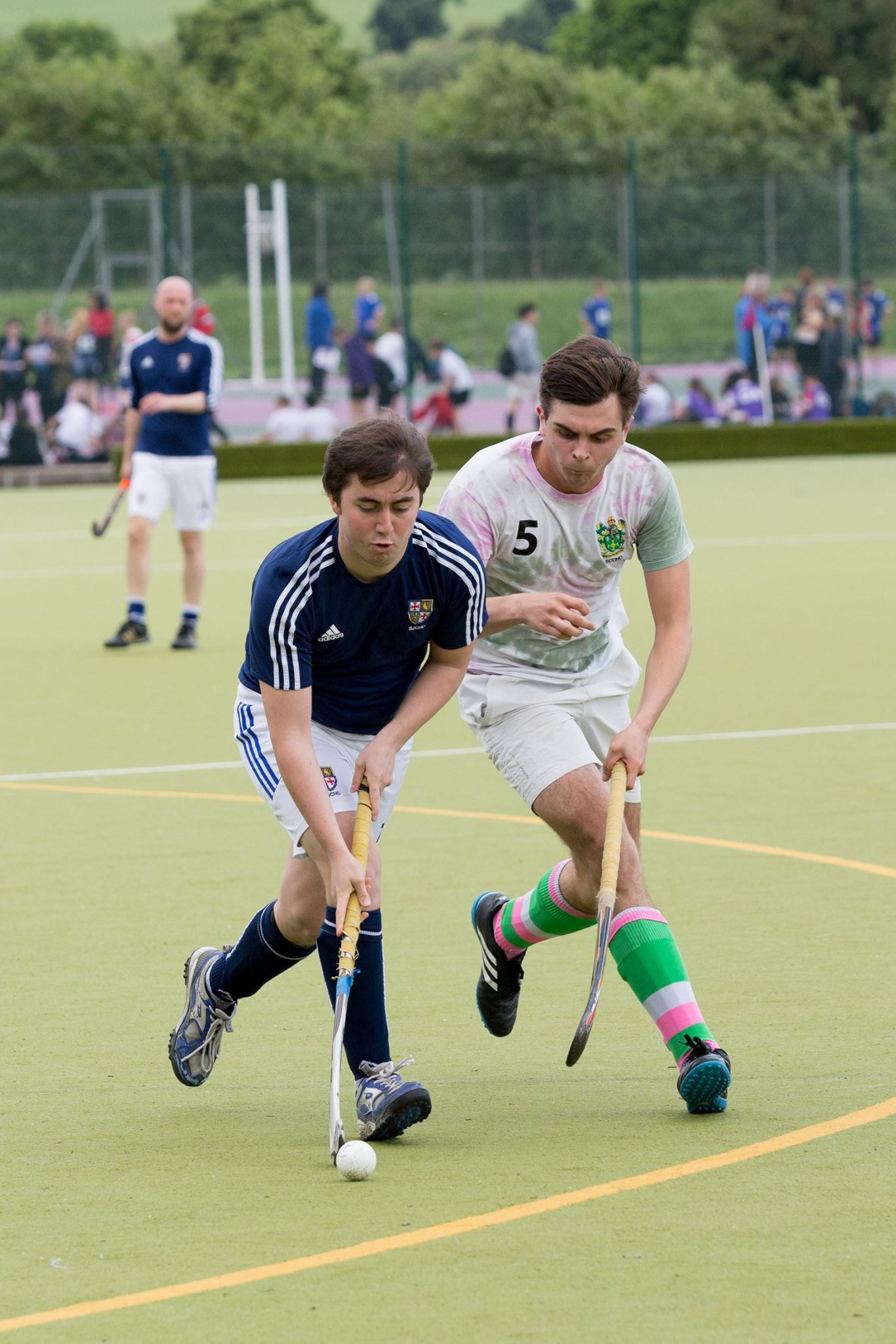 St John's Men's hockey are looking to push up a couple of places to win the league this coming season, so we're looking for as many people as we can to get involved. Any previous hockey experience would be great, but also for anyone looking to try a new sport then look no further! We run a training session once a week, with matches (on average) once a week also. Everyone is very welcoming and this year we'll be looking to have more socials to help us through what will be a tough but enjoyable season. There will be taster sessions in the first couple of weeks so keep an eye out, and come find us at the sports & societies fair to sign up!
Contact: Fenno or Adam at fenno.r.slade@durham.ac.uk/adam.m.mckee@durham.ac.uk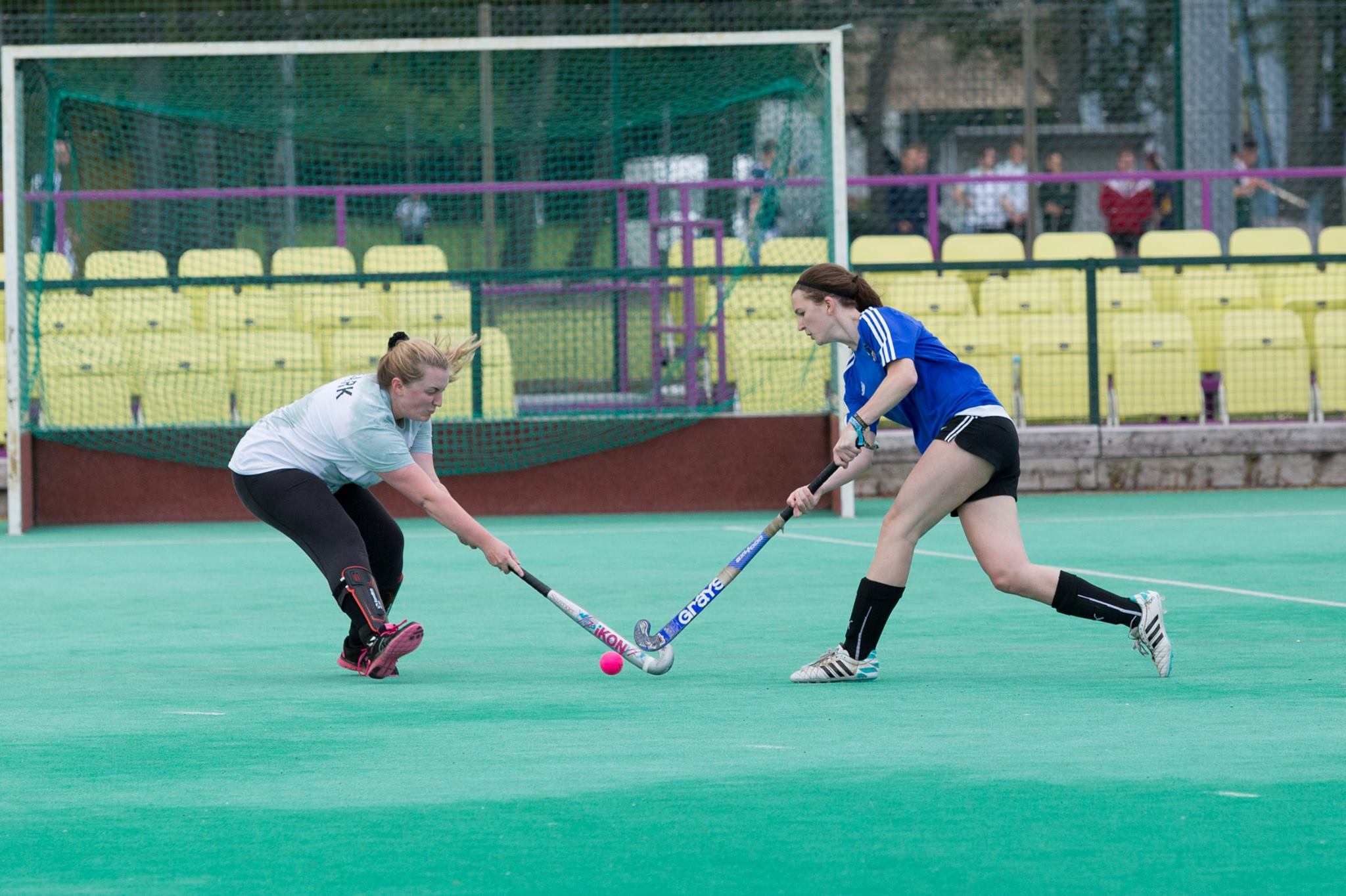 St. John's Women's Hockey Club is an amazing team to belong to. As well as advanced players we have people who haven't played in a few years as well as some complete beginners; everyone is welcome! With training once a week and matches most weekends everyone quickly learns new skills, gets fit, and starts playing as a team. We share training times with the men's hockey team and occasionally train together or have short mixed matches for fun and skill development. We will have many socials (some joint with the men's team) that are always great fun and the best way to get to know everyone. Sign up at the Sports and Societies Fair!
Jumba (John's Zumba) is a Dance Fit group that meets in Leech Hall once per week, usually on a weekend or a late evening. It's great fun, and open to all to get involved in to shake it off, and shake it out! They also run great socials, with discounted entry to clubs and bars.
Contact Lizzie at elizabeth.a.english@durham.ac.uk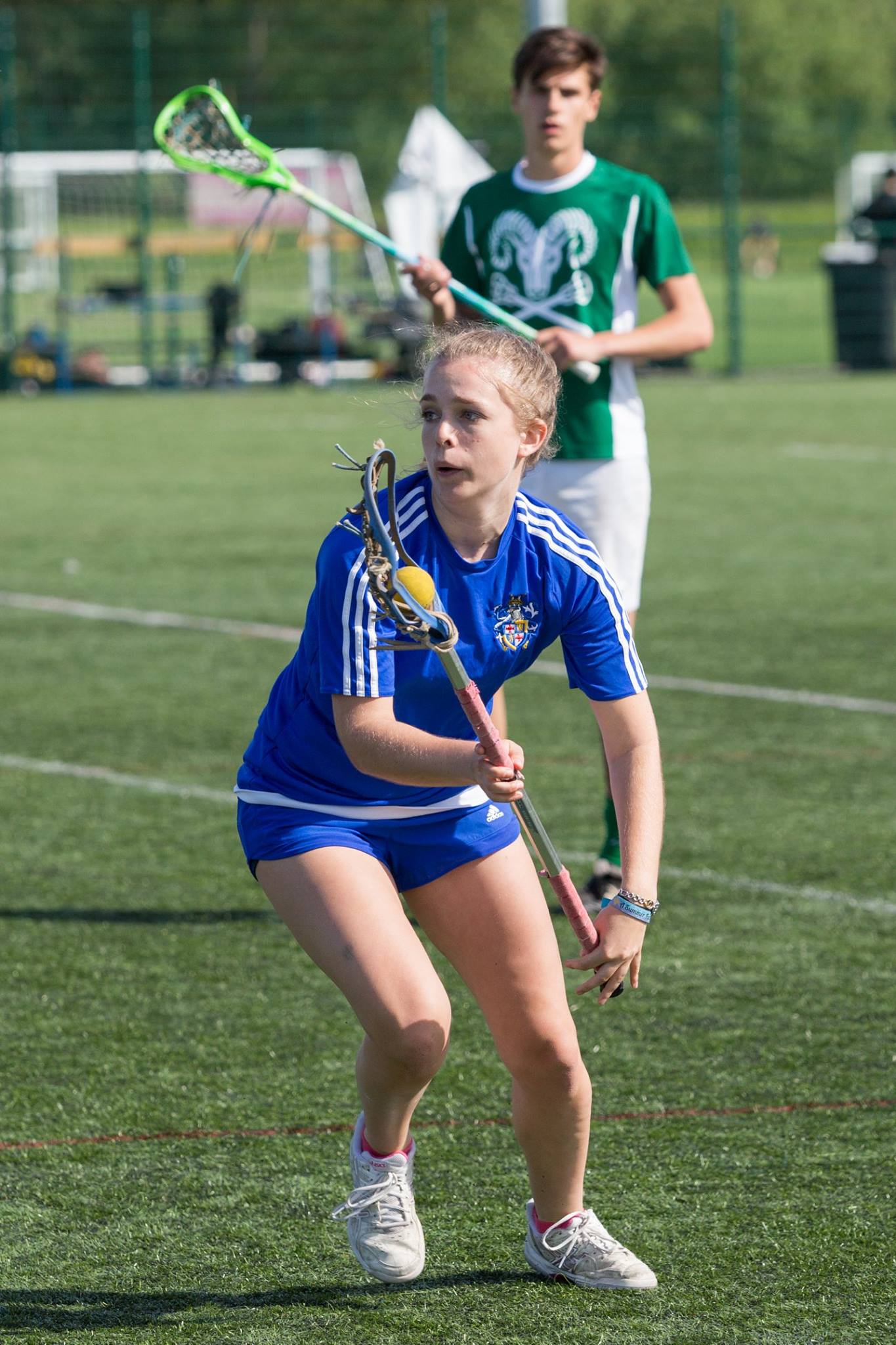 John's Mixed Lacrosse team are the current league champions with an unbeaten season. So, if you want to keep this winning streak going, we hope to see you there! Don't worry if you haven't played before, our team is full of people who hadn't picked up a stick before coming to Durham. We have had such an amazing team spirit this last year and fully intend to continue the tradition of 'playing for fun'. The socials will be banging and the team even more so, so please EVERYONE come out and try out!
Contact Seb at sebastian.g.carpanini@durham.ac.uk
Netball
St. Johns Netball includes netballers of all standards and is a great way to meet some new people in other years and get a bit of a run around. We have an A and a B team as well as the possibility of entering a friendly/mixed league, if interest is high! We train once a week on a Wednesday (as long as it's not snowing or pouring!) and try to get everyone a game most weekends. No experience is needed so feel free to come down to the taster day and training sessions whether it's due to your love of netball or just because you want to try something new (or maybe that you last played when you were 10). Hope to see many of you there!
Contact Eleanor and Pauline at eleanor.calcutt@durham.ac.uk or pauline.m.girma@durham.ac.uk
Pool
Playing pool is a great opportunity to visit other colleges and enjoy a nice, chilled out evening. Over the past few years, Johns Pool has gone from strength to strength, from having only one team in 2013/2014 to four last year, and seeing both the A and B teams get promoted. Our quest to finally get some Johns representation in the Premiership is not yet complete – we need some talented freshers to help get us there for next year! But if you'd like something a little more casual you can always join one of our teams in the friendly ladder. Whatever your ability, there's a place for you in Johns Pool. The more the merrier. This year Johns A play matches on Sundays, Johns B on Tuesdays and matches for the friendly ladder teams can be arranged for days that suit you best. Oh, and we have some quality socials. So hopefully see you soon!
Contact johns.sportsoc@durham.ac.uk or Jacob at jacob.whitehead@durham.ac.uk
The John's rounders B team have been Durham's fairytale story, Leicester City style. We won the premiership with style and swagger – and are very deserving champions. We desperately need some new blood to solidify our position as the best sports team in Durham and welcome players of any ability.
Contact Eleanor or Amelia at eleanor.calcutt@durham.ac.uk/ameila.f.law@durham.ac.uk
John's is all about Rowing. In fact, although we are independent of the SJCR, the College Boat Club is the biggest society in the college and is a great way to engage in the college community. As one of the smallest colleges we significantly punch above our weight and challenge the larger colleges in all events. Open to anyone of any ability, we encourage you to push yourself to your limits, but we also have a gentler social side for those who wish to enjoy the relaxed side of rowing. For those who have never raced before, joining the boat club as a fresher leads you straight into training for the inter- collegiate event called the Novice Cup, a fun and engaging competition that John's does traditionally very well in.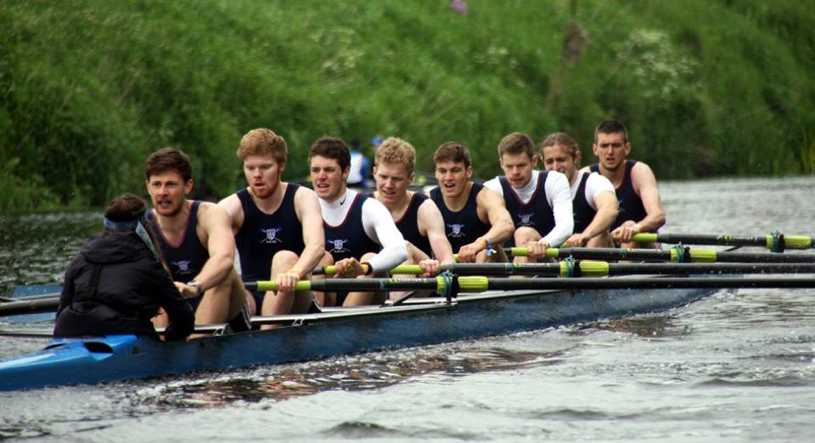 Both experienced and inexperienced new rowers will have the opportunity race all over the country; last year we sent two men's 8s and a women's 8 down to London to race on the Thames for the Head of the River Race, and this year we hope to send crews to other national events such as BUCS, Marlow and Met Regattas and potentially Henley Royal. We are also undergoing a huge improvement plan worth tens thousands of pounds, which we aim to provide us with new and better equipment into the future.
Finally, as a club we are famous for our socials that go down in history as nights to remember nearly every time we have one, and we have many formal events too such as our Christmas Ball and our Annual Dinner. I encourage you to come along and sign up to the boat club during the fresher's fair, it's challenging, fun, very social and you won't regret it.
Contact Holly at holly.k.jackson@durham.ac.uk
The rugby club at John's is open to all, from people who have never played before to those who have been playing most of their lives. The club competes at the level below university standard and has a proud culture and past, with some notable success in seasons gone by. There will be training every week and it will be useful, instructive and fun as well as challenging at times. As well as actually playing rugby, a key aspect of our rugby club is the socials, so expect the most regular and best socials in college.
Womens' rugby have a team combined with women from St Chad's College.
Contact Matt at matthew.f.jones@durham.ac.uk or Molly at molly.byford@durham.ac.uk
Despite being a small club, we had a very successful season last year. Our Men's team suffered heartbreak in the premiership in the final match and finished second. However, they won the cup. With three university players next year we will again be competing for the title. Players of any standard are welcome, and this year we will try to run an organised training/coaching session once a week to cater for all abilities, with matches at weekends. Ratified at the end of last summer, women's squash is our most recent society and will be going joint with our neighbours' Chad's. We are on the lookout for players! Any queries please get in touch. We'll be at the sports & societies fair so you can sign up.
Contact Josh at joshua.grew@durham.ac.uk
Table Tennis is one of the more relaxed and social sports. We are hoping to run two sessions a week, one as a casual session for a bit of fun and one as a more serious training session for those who want to compete against other colleges. Come along if you fancy it, if anything the inevitable beer pong socials promise to be a good laugh!
Contact Aidan at aidan.stirk@durham.ac.uk
John's tennis is extremely relaxed and has a nice chilled atmosphere. Everyone is welcome to join whatever your level. The more the merrier! In the summer term we train once a week and play a few matches against the other colleges. Anyone is welcome to come and play, both at training and matches! Remember to bring your rackets!
Contact Imo at imogen.l.wigdahl@durham.ac.uk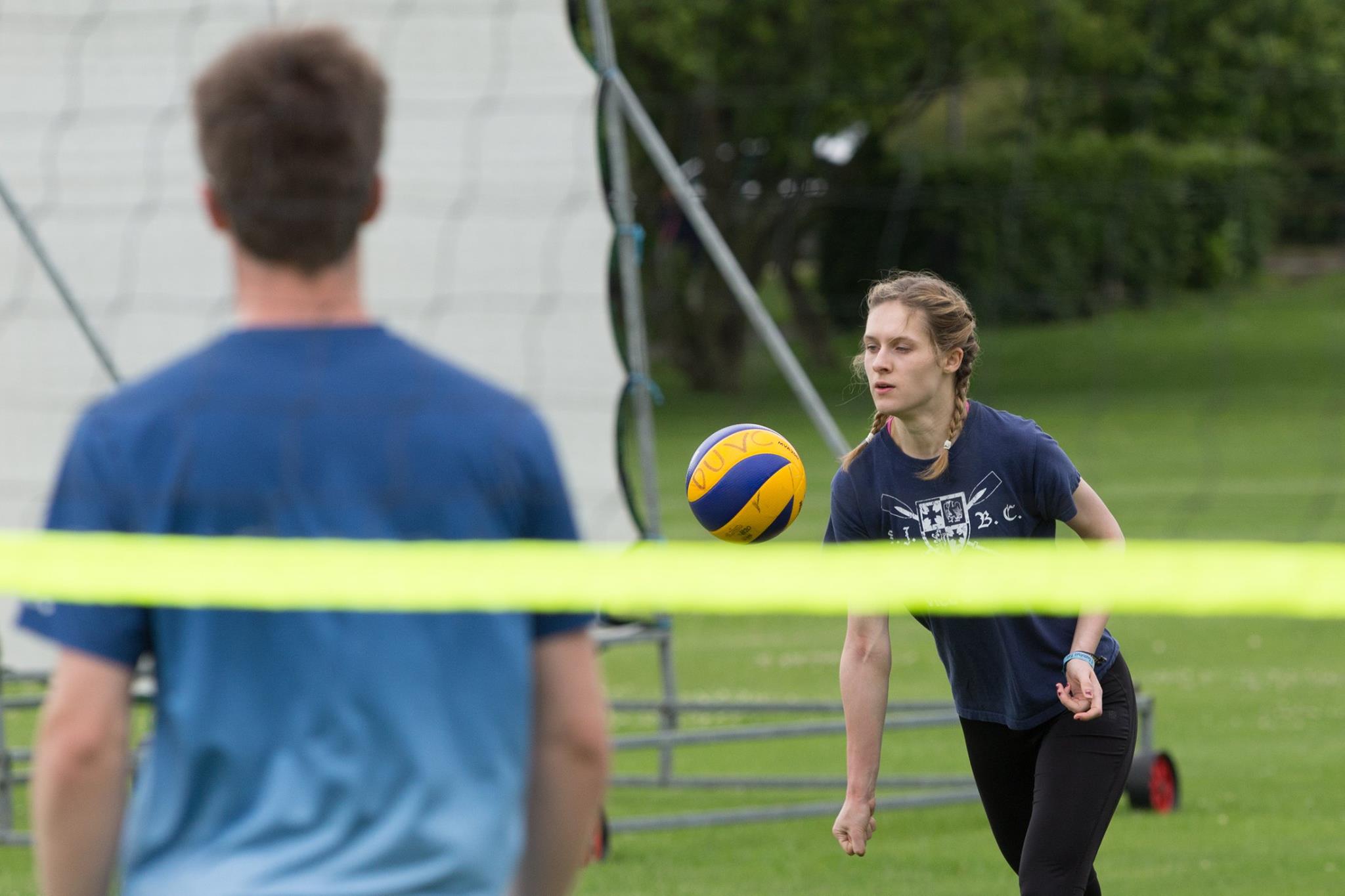 St John's volleyball team is very relaxed with people of all standards more than welcome! A good one to come along to if you would rather train and play 46 matches indoors on rainy/snowy Durham days. Feel free to come along to learn a new skill and hang out with some new people. Hope to see many of you there!
Contact Augustine at kendall.j.tanner@durham.ac.uk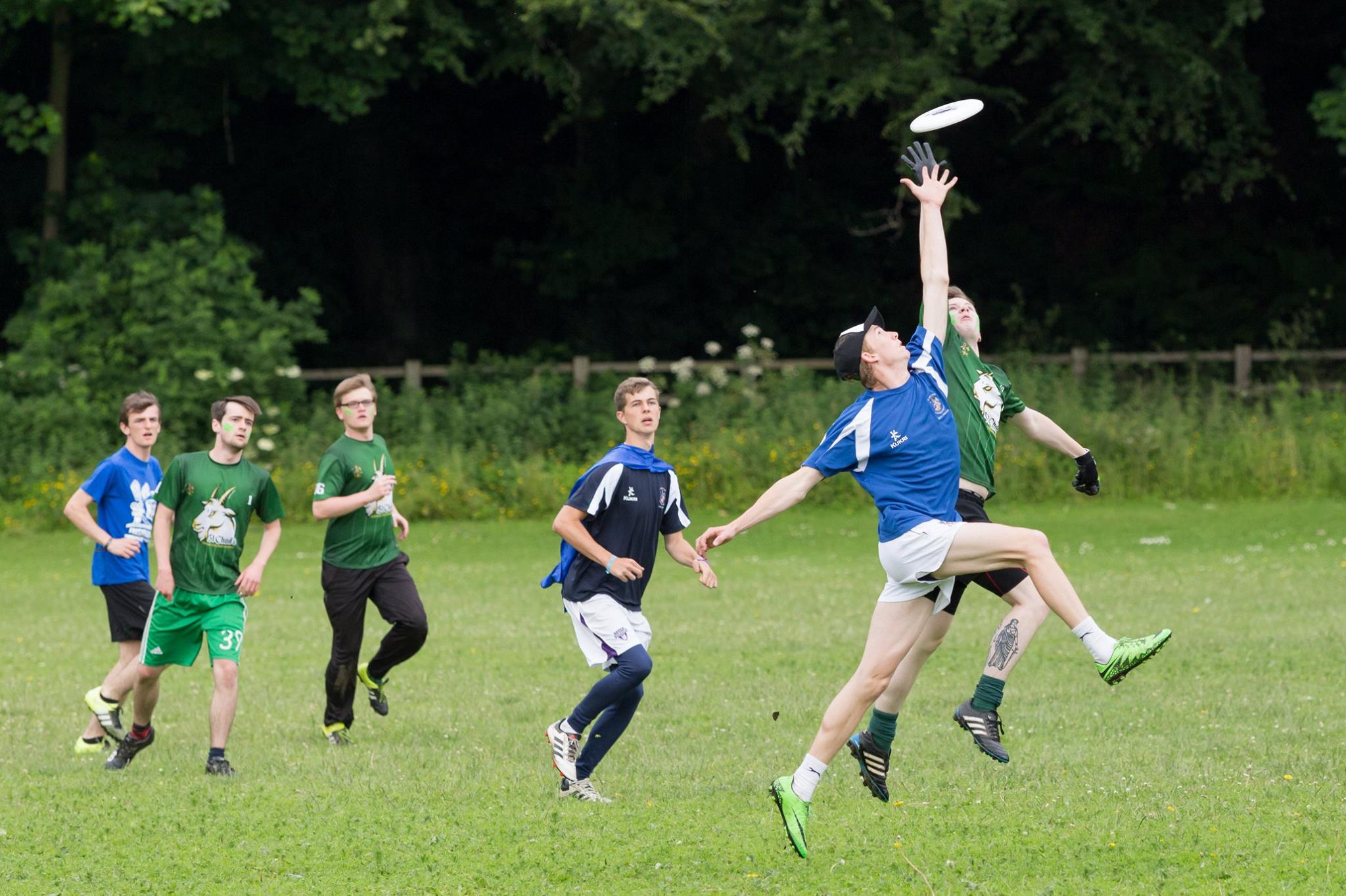 Frisbee at John's is one of the most laid back sports and traditionally one of our most successful. It's something that no-one has ever really done before they come to John's so don't worry if you don't yet know your hammers from your chicken wings. Teams are mixed and we play all throughout the year (yes, in the snow too). So come along and we look forward to seeing you out there.
Contact: Stefan at stefan.popa@durham.ac.uk
---
Societies
Art Society is a great way to unwind, relax and chat over art! We often run events in combination with the Welfare Team, and you can find us at Christmas fairs, as well as running community engagement projects.
Contact Dorry at dorothea.fox@durham.ac.uk
The Bailey Theatre Company is the official platform for all things theatrical in John's. Whether your interest is in acting, tech and backstage, make-up and costume, producing or even just watching the many plays that Durham has to offer, BTC is the society to join – with no prior experience necessary. We hold a number of productions over the course of the year (including the annual Johns-only Summer Shakespeare) – not only are these of very high quality, having been nominated for a number of awards last year, but also are great fun for all involved! Look out for our stand at the college Societies Fair during Fresher's week.
Contact Molly at molly.byford@durham.ac.uk
Boardgames
Boardgames society has unfortunately not taken off in 2018-2019. There are boardgames available in the Bailey Room for anyone to use (just please return them!). If you would like to set up the society again, please contact johns.sportsoc@durham.ac.uk
Born recently from a dream to provide free, quality cheese to students. With a motto of "Brie There or Brie Square" and headed up by "The Big Cheese", we meet roughly once a term and sample four different locally produced cheeses.
St John's Christian Union exists for every student in John's to have a chance to hear and respond to the gospel – the good news that Jesus died on the cross for our sins and was resurrected after three days to open up a relationship with God and the certain hope of spending eternity with him. We meet on Fridays at 6:45 in the Wallis Room, Chapel or Vasey Rooms to encourage each other to share this news, and put on several events each term proclaiming this news to which all Johnians are very welcome. See you soon!
You can also catch up with us on Instagram @st_johns_cu
Contact Josh and Hannah at joshua.grew@durham.ac.uk or hannah.m.davies@durham.ac.uk
The John's Chronicle is the Student Blog Page, which is not run by the SJCR, but we encourage all students to get involved on one of the many editorial teams. It is a great way to hone in on your journalism skills, and share the love for John's, Durham, or your wordly passions!
Contact Charlotte at charlotte.e.lock@durham.ac.uk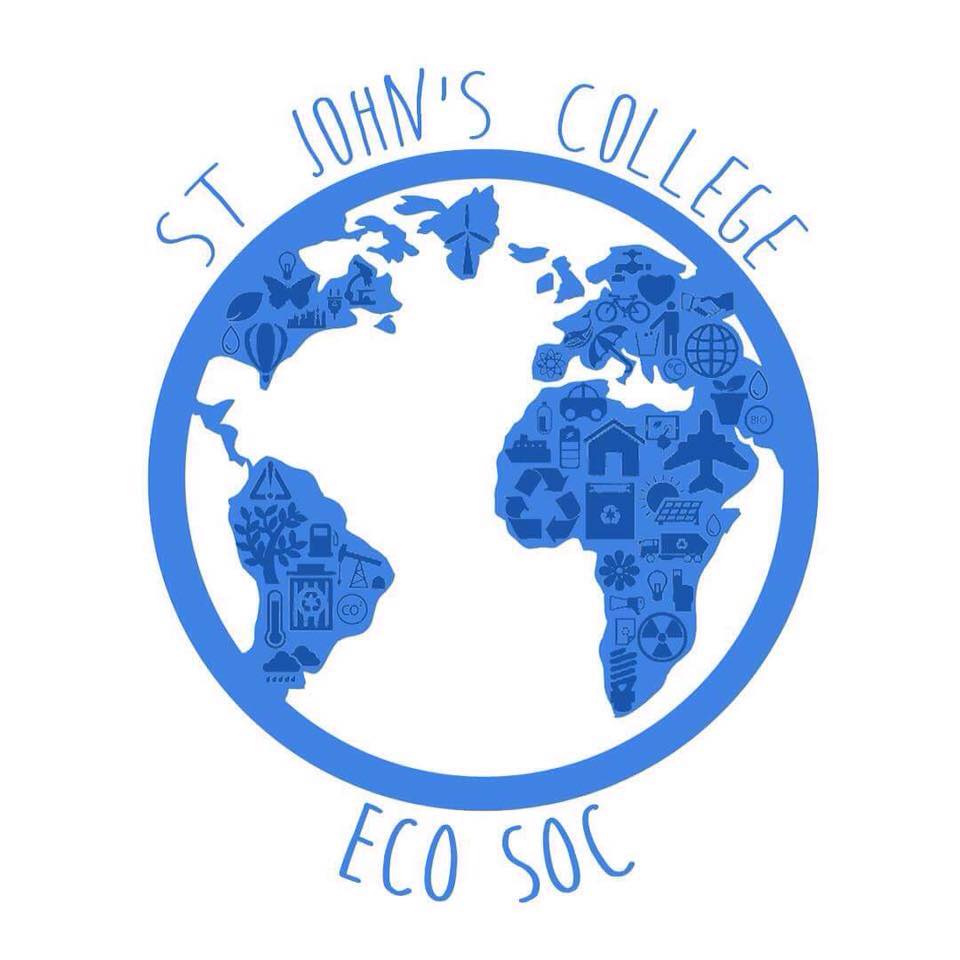 Eco Soc are dedicated to raising awareness about the environment and St John's footprint. We run an annual eco festival, and are also in the process of renovating the Presidents' Walk, the private John's garden/walk way to the river. If you have green fingers, or have regrets about not being more Greta as a child, get in touch!
Contact Alice and Ciara at alice.sleightholme@durham.ac.uk or ciara.hughes@durham.ac.uk
John's Music Society (JMS) is the umbrella society for music in John's. There's a thriving music scene to enjoy, with a multitude of opportunities for musicians of all abilities to get involved.
JMS have a wide variety of unauditioned ensembles that rehearse regularly and perform to a high standard. Whether you enjoy performing, conducting, technical set up, working behind the scenes, or simply listening to music, JMS is the society to get involved in!
JMS promote a fun and relaxed atmosphere in everything they do and encourage as many people as possible to get involved with whatever they wish. In addition to the society's pre-existing ensembles, they can assist students with funding and organisation for introducing a new ensemble.
For those who prefer solo performances, JMS can assist with the provision of rehearsal spaces and equipment like music stands and instruments. There are regular opportunities to perform as an individual at the society's relaxed Open Mic Nights, or in a more formal concert setting.
When joining John's, please indicate that you are interested in JMS in the relevant section of your College induction questionnaire.
Follow JMS on Facebook and Instagram: @johnsmusicsociety.
For more information, contact johns.music@durham.ac.uk
Real Ale Society
Contact Duncan at philip.d.lee@durham.ac.uk
Whiskey
Contact johns.sportsoc@durham.ac.uk
John's Bar Society
A new society for 2019-2020 for all aspiring lawyers. Keep your eyes out for more info!
Table Football Society
Contact Niccolo at niccolo.balducci@durham.ac.uk
Dodgeball Club
Contact Kirsty at kirsty.d.gledhill@durham.ac.uk
Photos courtesy of Alex McNab, Durham